Your Ford will require its first
transmission service
at 100,000 to 150,000 miles. It may require service more often depending on how you use it. Factors that will add life to transmission and require more repairs include driving in heavy traffic, especially commuting, towing, or regular hauling of heavy loads.
A transmission service includes a variety of services including replacing transmission fluid, transmission part replacement or rebuilds, and
full transmission replacement
. As today's modern Ford or Lincoln transmission is computer-based, diagnosis and repair can be complex and require expert attention. 
A factory-certified technician at Cavalier Ford Greenbrier can help diagnose transmission issues or perform the correct preventative maintenance to keep your transmission functional. Since transmission issues can be expensive, you will want expert advice on whether your transmission requires maintenance or replacement. If you are facing a worst case scenario and must replace your transmission, you want the best trained to complete that project to ensure your vehicle continues to run well.
Best Trained Technicians
At Cavalier Ford Greenbrier, we hire Factory Certified Technicians to work in our service department. To become factory certified, technicians must train at a vocational school that is approved by the Technical Career Entry Program sponsored by Ford Service.
By visiting our service department, you know that only skilled mechanics that are knowledgeable about your vehicle will be making the necessary repairs and maintenance. These mechanics underwent specialty training regarding the unique aspects of Ford vehicles. They know your vehicle best and will make that specialized knowledge work for you.
Technicians also work in a modern shop with the best equipment customized for repairing Ford vehicles.
Factory Certified Parts
Transmission is essential and after-market parts and below-quality fluids can contribute to catastrophic failure.
Every part or fluid used in the service of your Ford vehicle is factory-certified. Along with the expert skills of our service department technicians, you can also rest assured fluids and parts are only replaced with the best for your vehicle.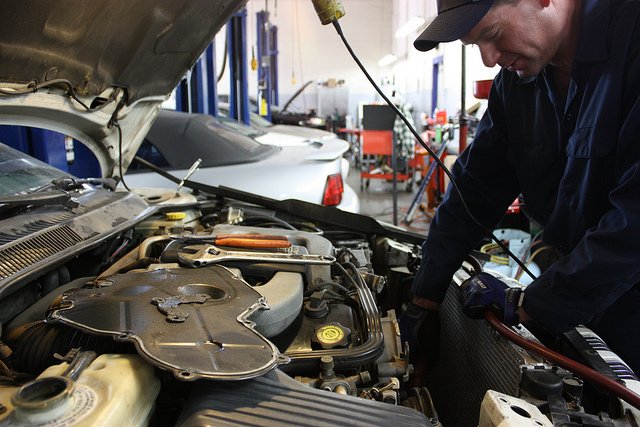 Convenient Hours
Our
Chesapeake service department
is open at hours compatible with your work day. Extended hours from 7:30 AM to 7:00 PM give you plenty of time to drop off your car before work and pick it up after work.
Easily Accessible from Virginia Beach
See us today at our address at 1515 South Military Highway, Chesapeake. Our easy-to-access location is an easy drive from Virginia Beach:
Travel on I-264 W towards Norfolk;
Take Exit 13-14-15 to I-64 W/US-13/Military Highway toward Richmond;
Follow Exit 14A for Interstate 65E toward Interstate 664/Chesapeake/Suffolk;
Keep left and follow signs to Norfolk;
Exit on Exit 13A to merge onto US-13 S/North Military Highway;
Cavalier Ford Lincoln will be on your right.
Call us at 888-711-1245 to schedule your service appointment or fill in our online form. We look forward to helping you maintain the transmission in your Ford.